When I joined WSA Communications in 2014 as an Account Executive, I was at a turning point in my life and never could have predicted what the future would hold. Six years later, I am immensely proud to be the Head of PR and Marketing. I hope that my story will demonstrate to others the type of business that WSA is, and that success can be achieved when we all believe in one another.
In the beginning …
I graduated in 2010 at the tail end of a recession and was still somewhat naive to the world of business. I had worked hard to achieve strong university grades, secured a work-placement with the BBC and had a portfolio of impressive work including interviews with Premier League footballers and managers. Who could say no to me? As it turns out, a lot of people.
I found myself in a quandary post-graduation where I was offered great opportunities to 'expand my CV' but at no financial gain, impossible for someone 20 years old who had moved away from home and had bills to pay. One leading football club offered me a year long placement in their press department working 3 days midweek and all weekend, for essentially nothing (they would cover my train fare). Another former owner of a national newspaper offered me the chance to work on a new sports channel being launched, where I would have creative freedom to devise my own show. There would be no pay, but I could expect to be rewarded once it all took off. It never did.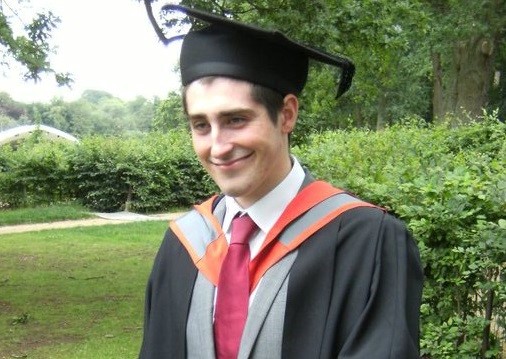 I soon came to the realisation I would have to look at a short-term career shift. I took up a role in the recruitment industry and in my free time, started my own radio show on a local cable station, something that helped me achieve press access to events so I could keep building my network and written-word portfolio. I worked hard at my job and took the opportunity to learn about researching and writing job advertisements, speaking to clients and customers and generally getting a better feel for the business world. But it was not my passion and I would be frustrated when one-off media opportunities would come my way but I missed out on them due to my day job. After two years, I grew impatient and eventually left to take up roles that required writing or creative. This led to some exciting opportunities with big brands, but I was still a junior on a junior wage.
After pushing on for a number of months at a deficit, I also found out that I was Type 1 Diabetic. Anxious of how I would sustain myself, confused and a little scared of what the future might hold, I relented and returned to the safety of a steady line of work. I had thrown a Hail-Mary and come up short and its fair to say my confidence was shot. I believed I had failed, wasted my time and it was time to accept defeat. It would be another two years before I would muster up enough self-confidence to consider a role I was truly passionate about again.  
A new opportunity
In the summer of 2014, I came across a job advert for a company in Bletchley called WS Advertising. They were looking for an Account Executive to support the CEO, Jane Hayward, providing solutions to clients mainly with advertising needs. I saw how my recruitment knowledge could provide a pathway into this industry and how that would give me a route into writing in future; but I was concerned I might not be able to show the creativity I knew I possessed in one conversation.
I approached my interview with a number of prepared answers designed to sell the value I would bring numerically and that I would represent a worthwhile investment for the brand. I was unprepared when the main thing Jane and the Operations Director, Austin Walters, wanted to speak about, was me. What motivated me, how had I ended up sat in their interview room, what were my dreams for the future and what were my personal aspirations? I felt so welcomed that my guard completely fell apart and I laid out everything I had experienced so far, how all I had been looking for in four years of searching was somebody to give me a chance to do what I love to do. I was honest and upfront that writing was my passion and whilst this role had an element of that involved, I would likely want more of this in future and would aspire to learn what I can in order to make another transition. I left my interview thinking that WSA would be a wonderful place to work but that by being too open about my planned future moves, I had shot myself in the foot. It turns out I hadn't.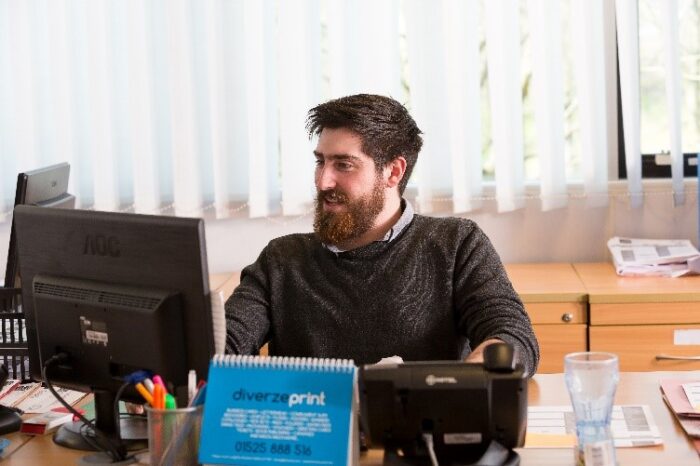 I still remember the joy I felt when I was told I was being offered the job. I have never forgotten how Jane shared with me that she saw great potential in me, liked my ambition and that if I worked hard for her, she would help me get where I wanted to be. Until now, I had not experienced a scenario where I felt someone genuinely cared about seeing me grow beyond their own current needs. I was motivated to give my all to my new role and my new company had my full commitment. I have never been shy (as my colleagues will attest!) and after a few months of learning about agency life, a role within the business came up for an Account Manager, so I applied. Jane explained to me that whilst I had started well I had more to learn before I could make that step.
In another 3months time, a similar role became available, so I made my interest known again. This time, after recognising I had been going above and beyond in my current role (such as taking ownership of the company twitter page) to impress her, Jane did what I was now quickly becoming accustomed to. She gave me another chance to prove myself.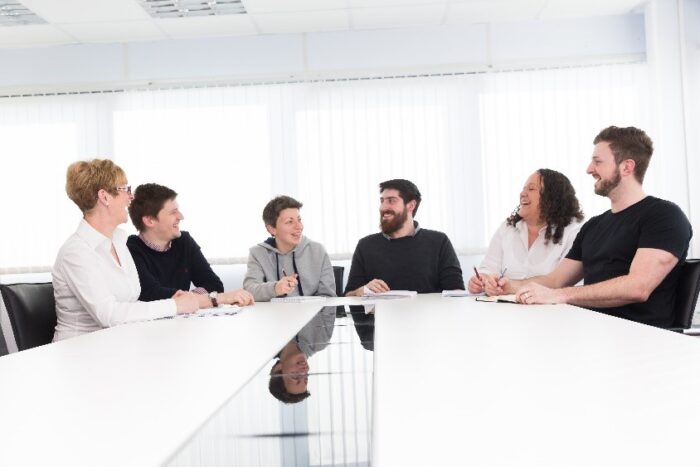 I spent the next 2 years working as part of the Account Management team and became responsible for some of the largest accounts WSA looked after at the time. I was full of confidence and enjoyed being able to use my creativity to come up with campaign ideas, develop client strategies and get involved with new business pitches. I had never enjoyed the sales element to any job before, but because I was passionate about what I was doing I was succeeding. The company culture of transparency and maintaining relationships by providing ongoing cost-effective solutions appealed to me and my own sense of values.
I still took every opportunity I could to write and to my delight, when a job would come in that required some original copy to support it, everybody seemed more than happy to pass these over to me! These opportunities became more frequent after the agency had moved premises and continued to expand in size and structure, offering more services and specialisms (such as digital and social media) than ever before.
A chance like no other
It was around this time that the business, now known as WSA The Communications Agency, expanded and acquired a new PR division. A new service offering suddenly became prevalent within the company that involved writing engaging copy, article production, content creation, copywriting, marketing, proof-reading, interviewing, editing, brand management, project management, event management and content integration with social media. I will openly admit, when the announcement was made, I was concerned that I would find myself looking enviously across the office. I need not have worried. Jane spoke to me candidly about my ambitions and that she had not forgotten my aspirations. She offered me the chance to move onto the PR team, once again as an Account Executive, but in the direction I wanted my career to go in and with a clear pathway to Account Management. There was never any doubt I would say yes.
I was extremely grateful that the new WSA PR team were incredibly welcoming to the new upstart joining their ranks. I had been waiting for a very long time for an opportunity like this and so I threw myself into the role and tried to learn everything I could as fast as I could. Within weeks, I was regularly producing, distributing and promoting press releases, case studies, blogs and content that was getting published both online and in a variety of local, national, international and sector-specific publications.
A particular highlight came when I wrote a radio-script that was used by a client for a national campaign including being broadcast on talkSPORT. There is nothing quite like the buzz of seeing or hearing something you have written published or broadcast, and it was not long before I felt the same energy, creativity and self-confidence again that had always been prevalent in my university days.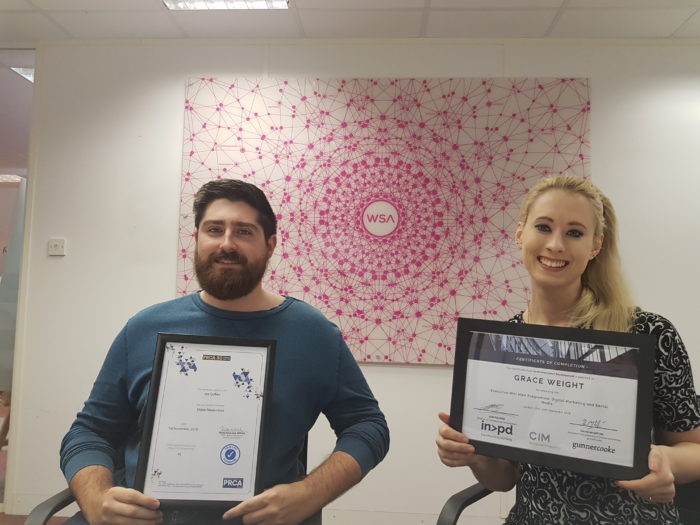 Before long, I achieved promotion to the role of PR Account Manager and took ownership of helping key clients develop strategy to achieve regional, sector and national coverage in a wide variety of media; writing multiple successful award-entries and continuing to assist with content for news, advertisements, recruitment, marketing collateral and more. I was happier than I had ever been in my career and it was showing in my work which was achieving great results.
Turning potential into reality
WSA, as an agency, has gone through multiple periods of change and is always evolving to ensure the business reflects the needs of clients and offers the best possible service to its customers. One such period of change saw the arrival of Jerry Taylor as Managing Director. Jerry is an advocate for growth and has been instrumental in my ongoing development and continued to offer me and other colleagues the chance to keep learning and enhance our careers. I had the opportunity to complete a PR & Communications Digital Diploma from the PRCA, which expanded my knowledge further and helped me towards achieving a promotion to PR Account Director. Jerry's mantra of 'turning up the good' has seen the agency deliver even more opportunities to young people, including the arrival of a number of apprentices, which gave me the opportunity to keep growing too, gaining managerial and leadership skills beyond being responsible for my own performance.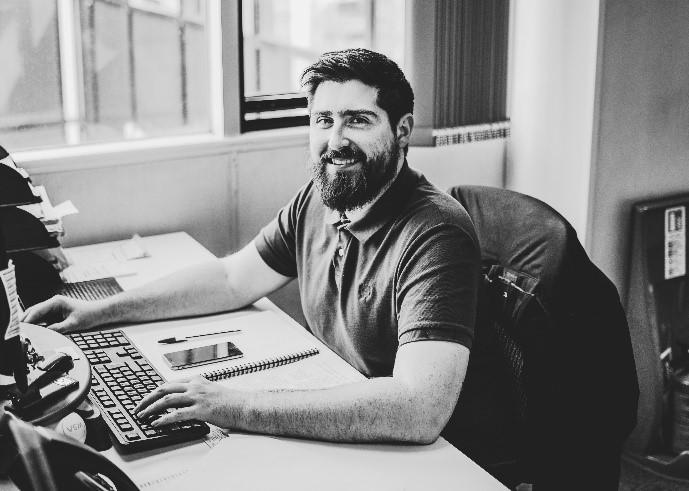 Six months ago, after 5 and a half years of working with the agency, I was honoured, proud and privileged to be named the new Head of PR and Marketing at WSA. Companies will often tell employees they see potential in them, but what sets the best businesses apart is those willing to follow-up on that encouragement and give people the platform to show what they can do. I put my trust in WSA a long time ago because the company showed trust in me. I remain eternally grateful for the chances that have been bestowed upon me and I hope that I have gone someway to repay that faith. My experience shows others that potential can convert into success, that trust and commitment can yield results and that no matter how unattainable it may seem, there are opportunities out there where your hard work will be rewarded. The setbacks early in my career were difficult but important as they helped me gain experience and realise the incredible opportunity that was working with WSA when it came my way.
And so …  the real journey begins
When I took up the role of Head of PR and Marketing, I knew there would be unique challenges on the journey to come. Needless to say, a national lockdown due to COVID-19 was not what I had in mind! Fortunately, I am surrounded by an exceptional team. They continue to inspire me and support me in providing our clients with the best solutions possible, and I could not do it without them. Whilst we are physically far apart at the moment, the sense of family that defines WSA has kept us motivated and in good spirits. Not to mention, breaking the PR team record for coverage achieved in a single month recently!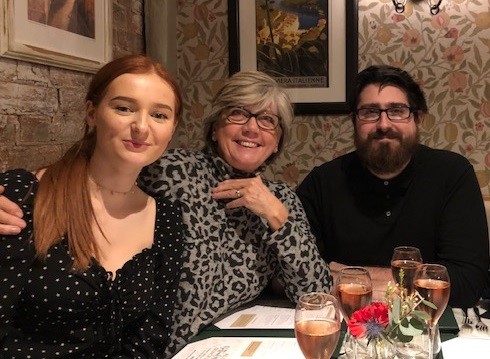 We have all worked hard to ensure an integrated offering with our Digital team is continuing to succeed and provide new ways of reporting, new services and cross-transferable skills related to the world of content and PR. Adapting our offering, maintaining our standards and getting strong results, especially during a period of financial uncertainty, is no easy feat. But together, through belief in each other and passion in what we do, we are achieving our goals and looking forward to a future that is bright for our clients, for our business and for ourselves.
If you are looking for a company that will invest in your growth, believe in your talents and give you the platform to become who you want to be, check out our careers page for the latest vacancies at WSA.