This year, GCSE Results day may have looked a little different this year, but that didn't stop the excellent results from our clients in the Education sector! The highlights include:
Sir William Ramsay School:
Well done to all Sir William Ramsay students!
A few the top performers at Sir William Ramsay School were (not all results have been included as a significant number of results have still not being confirmed):
Grace Bayliss achieved 9x grade 9's
Rebecca Waldron achieved 7x grade 9's, 1 grade 8 and a Distinction*
Haram Butt achieved 5x grade 9, 3 x grade 8, 1 grade 6
Katie Fleming achieved 5x grade 9, 3x grade 8 and 1 grade 5
Thomas Sullivan achieve 3x grade 9, 2x grade 8 and 4x grade 7
'We have had some truly outstanding results in a difficult year. Students have had to contend with the normal pressures of Year 11 and the stress of the abrupt end to the year. In addition, students have coped admirably with the anxiety created by the results process. Our students should be proud of their hard work before lockdown. I would like to thank the students, staff, parents, and governors for their dedication and hard work.' Mrs McLintock, Headteacher.
Sutton Valence School – GCSE Results 2020:
Despite the incredible number of challenges faced by this year's GCSE candidates, students at Sutton Valence School are once more celebrating a superb set of results. With almost 50% of GCSEs graded 9 to 7, this year's performance is even more impressive than last years' excellent level of achievement. The percentage of coveted grades 8 and 9 gained by pupils at the School has increased again this year – 2020 sees 28% of our GCSE grades awarded at the very highest level, 8% more than in 2019.
Of the 90 pupils in the year group, 29% of this talented cohort achieved four or more grade 8 or 9 (formerly A* grade), with five students each gaining ten or more A* equivalent grades across a wide range of subjects.
There are a great number of outstanding achievements to celebrate amongst this year's GCSE cohort, and as ever, there have been some exceptional individual performances. These include Jonny Russell (ten grade 9, one grade 8), Holly Clark and Charlotte Farrell (eleven grades 8 and 9) and Evangelina Kargaki and Harrison Murray (ten grades 8 and 9). A further four pupils – Thomas Llewellyn, Suma Rai, Alice Roberson and Alexander Tolhurst – all achieved nine GCSEs graded 8 or 9.
Bruce Grindlay, Headmaster, commented, 'This has been one of the most difficult years ever for students taking public exams, but the hard work invested by our pupils, along with the guidance and support provided by a dedicated team of teachers, has resulted in this outstanding level of achievement. We are delighted with the way our pupils have risen to the challenges presented to them. We are proud of everything they have achieved – these young people deserve enormous credit."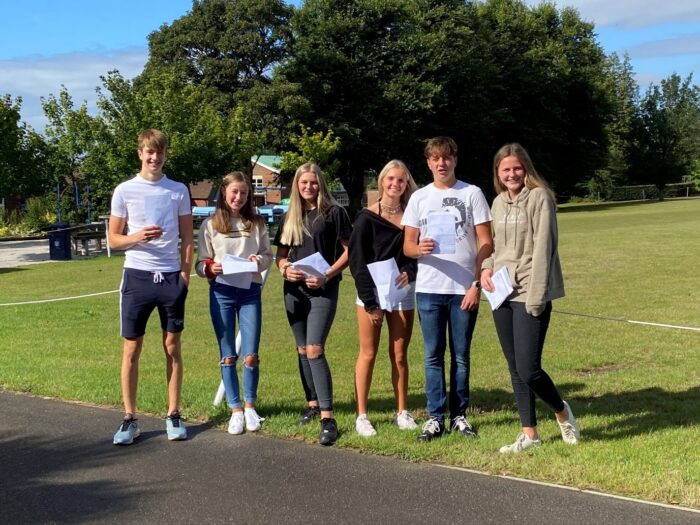 Lealands High School:
Our students continued to work extremely hard following the school closure this year and have worked exceptionally well throughout their time at the school. We are pleased that this exceptional year group has been rewarded appropriately. The process for awarding these grades has been thorough and robust meaning that students can be secure in the knowledge that they have the results they worked for and deserve. We are very proud of the class of 2020 and wish them every success in the future.
Guilsborough Academy's Class of 2020:
While students will be opening e-mails rather than envelopes at Guilsborough Academy this year to find out their GCSE results – one thing has remained the same; the Class of 2020 has filled the school with "pride and delight".
Mrs Swales, Principal, said: "After what has been a very turbulent six months for our students, we are so proud of the results that they have achieved. After a really robust moderation process, 87% and 84% achieved passes in English and maths respectively which has opened the door for them to go onto a wide variety of courses/apprenticeships."
"Whilst many of our students achieved several grade 9/8s, which is amazing, we also had many others that made outstanding progress in a variety of subject areas. We wish them all the best for the future and look forward to working with them in the 6th form to go on to continue their success".