We caught up with our Social Media & Content Marketing Executive, Meera, to see how her first few weeks at WSA have been. Take a read to see how she's been settling in, what projects she's been working and find out what is yet to come!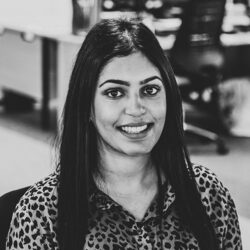 How have your first few weeks at WSA been?
My first few weeks at WSA have been a blast – I feel super blessed that everyone has been extremely welcoming. It has been a bit of a crazy experience though, as I am the first employee to start the company on Teams during this pandemic. Luckily enough, I have a supportive team around me (and technology was on my side!) so I felt very comfortable and weeks flew by!
What's your area of expertise and what makes you successful in this market?
I kind of just fell into marketing and have never looked back – I love it! It is forever changing so there is always something new to learn about. I have been lucky enough to manage high-value clients in my career, specialising in increasing their employer brand and utilising digital solutions to help their engagement on their social platforms. I have experience in content marketing, campaign execution and data analytics.  
What attracted you to join WSA?
I wanted to work for a company that I could build a career with, somewhere where I had the opportunity to develop and that's why WSA really stood out to me. After speaking to both Grace and Austin at my interview, I got a wonderful understanding of the culture, values, services of the business and the opportunities available. The company seemed like one big, loving family that I was keen to be part of!
What projects have you been involved in since you started?
In my first week, I looked back at our client's social media accounts and put together an evaluation deck. This gave me a good insight as to what we should continue to be doing and help to identify any new content opportunities. I have also been helping Grace, Laura and Molly on the client social schedules and jumping on client calls to get an understanding of their expectations. I have gathered some ideas for our own WSA social platforms to see what kind of content we can be posting which is nice as it's a chance to get everyone's ideas together as a team. Considering I've only been with the company for two weeks, I've learnt a lot from the team!  
What goals would you like to achieve in the next 12 months?
In the next 12 months, I would like to be in a place where I have shown my skills and expertise by being innovative and bringing new ideas to the table. I want to be able to have experienced trialing bespoke content for our clients to show them the power of organic social media. I would also like to say that I have a full understanding of each area of the business and be a great help when needed.
What makes you laugh out loud?
Other than the clumsiness of myself, I probably laugh the most when I'm around my boyfriend, friends and family – a crazy bunch but wouldn't change them for the world! I find myself giggling at every episode of friends or Gavin and Stacey – will we ever find out what happened on the fishing trip with Uncle Bryn and Jason?!
Finally, tell us an interesting yet little-known fact about you!
Something people might not know about me is that I'm a massive geek on research. I can provide the best recommendations for literally anything: spa's, restaurants, bars, places to visit etc. I love music and I find myself knowing the lyrics to literally anything and everything, even those annoying songs I don't even like. I'm a massive foodie, I eat when I'm sad, happy, excited, bored, you name it – if there is food I'm there!