Following on from part 1 of 'Printciples of Press' blog series, we are going to take a look at understanding the processes of print, including lithographic print and digital print. Not read our first part to introduce you to print? You can read it here.
How does the lithographic print process work?
Litho for short, lithographic printing or offset printing, is a high-quality printing process based around the idea that water and oil repel each other. Nowadays, the inks used are much more environmentally friendly rather than the oil-based products of the past, but the principle remains the same.
Ink and water are added to each of the presses colour stations. Litho relies on the transfer of ink from the plates to the paper via a rubber blanket or roller (hence the term offset). This protects the plate during the printing process by giving it a consistent surface to transfer the ink to, before it is transferred onto the paper.
First, the designer supplies the printer with the artwork, usually as a press-ready PDF. Once the printer receives the file, using specialist software, they will separate the artwork most commonly to CMYK. This gives four colour separations which are then used to produce printing plates.
The printer uses software to lay out the artwork electronically to fit the size of paper which the press uses. Common sizes are B3 or B2 (which is similar to A3 and A2 but with an extra margin area to allow for the press to grip the paper during the printing process and for trimming afterwards).
Laying out
Laying out allows the printer to economise on materials, not only saving on paper but also on the number of plates they must produce – the term for this laying out is called 'imposition'. In the simplest example, by fitting both sides of the artwork for a four-page A5 leaflet on one side of a B3 sheet (finished 4 x A5), it means that the printer only has to produce one set of plates and not two. The leaflets will then be printed on one side of the sheet and the stack is turned over, reversed allowing the back of the paper to be printed on. This is very useful to know, because if the printer has a B2 press, they can print two different A5 4-page leaflets using only one set of plates.
Printing plates
Printing plates are thin, flat sheets of metal commonly made from aluminium – which are produced digitally from the design artwork. There is one plate for every colour in the design to be printed. So, for a CMYK (4-colour) job there will be a cyan, magenta, yellow and black plate with extra plates being produced for any spot colour (often a Pantone) where a client has a specific corporate colour that cannot be produced using a mix of CMYK.
Litho machines
Litho machines or presses come in many different sizes and formats, depending on their use, they are fed from paper on a roll (ie for newspapers) or sheet fed. Similarly, the inks are transferred by plates housed in a series of identical units. To allow full colour reproduction, presses with multiple plates/units are required and they are usually made in 4 – 7-unit formats. Each unit houses one plate and is used to print one colour.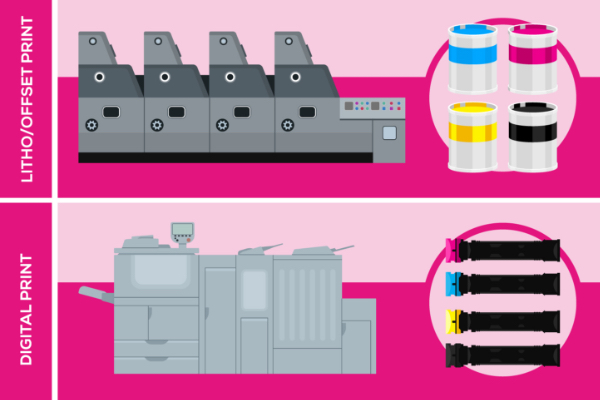 Digital printing process
There are a number of different techniques which fall under the term 'digital', but they all share the same benefit that print is produced direct from a computer design file so there is no need for the production of printing plates that are required for Litho printing.
There are great advantages to this type of printing, it is economical for small runs, easy to customise and print can be personalised. Plus, you only need to print what is required, safe in the knowledge that it can be changed easily for the next print run. However, you need to remember that digital machines can only print using four CMYK toners, they cannot print spot colours (Pantone). If you need to match a specific spot colour, you are best to go litho, no matter the quantity required.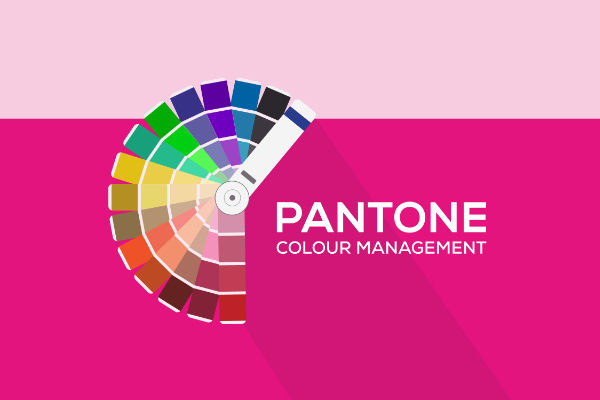 Common digital uses would be for printing short run work, leaflets, banners and posters etc. A variety of materials can be printed on such as vinyl for banners, lorry livery, stickers, etc. Different machines cater for different sizes of artwork, from A4 leaflets right up to large format printing of banners and even building wraps.
These two different print processes are suitable for many different types of jobs and consideration should be given to which is most appropriate for your job. This can depend upon the size of your job, the size of your print run, any specialisation such as personalisation or spot colours that may be required, the urgency of your deadline and of course your budget.
In the final part of our Print Blog series, we will cover many of these considerations, looking at the advantages and disadvantages of Digital versus Litho print.