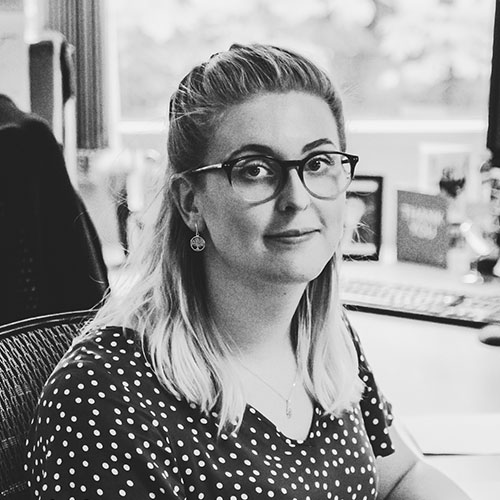 What do you do when you enjoy the place you work but want to make a career adjustment? It's an age-old conundrum that often sees people move on to pastures new. Sometimes it is an unavoidable fact that making a move is necessary, but new opportunities and new job positions don't always have to come from leaving your current workplace. At WSA we encourage staff to speak to us about career ambitions and we try to be flexible and accommodating whenever we can. We recently had Kim Newland, who was previously an Account Manager, move into a new role as a New Business Executive.
Over to Kim:
When I came for my interview nearly 3 years ago, I felt at ease and knew that WSA was a place I could see myself working. I started with the business back in April 2018 as an Account Executive. In that time, I worked alongside Account Managers on some of our biggest clients, supporting with the day to day running of the accounts. Then in January 2020, I had the opportunity to become an Account Manager myself.
Since I started with WSA I've been working with our healthcare clients, helping them to get the best out of their recruitment advertising and marketing. Within that role, I worked on a range of different projects, from microsites to leaflet drops, to employer branding and client photography. On one occasion, I even organised the purchase and delivery of a shipping container!
Down the line, I knew that I wanted to change roles but didn't want to leave all of the wonderful people that I've got to know and now call my friends. Everyone at WSA is always happy to help and support each other and that's important, especially in current times.
I started to think about a change in my career over Christmas but was unsure of the direction that I wanted to go in. Coming back to work in January, I spoke to Marc, our Account Director, about new business opportunities in my role as an Account Manager. I also expressed an interest to Charlotte, our New Business Manager, about the current vacancy at the time within the New Business team. She was more than happy to speak to me about what the role entailed. It struck me as something I wanted to go for, so I had an interview on Teams. A few days later, Charlotte told me that I'd got the job!
The diversity of projects and clients is what drew me to New Business. Healthcare will always be an important sector for WSA, and I knew that I could bring my experience over to New Business as well as having the opportunity to work with a variety of different sectors. As part of my old job as an Account Manager, I really enjoyed speaking with a lot of different people and forming long-lasting relationships with them, and this is something that I was excited to carry over into New Business.
My new role is to support Charlotte with sourcing new business opportunities. As well as this, a large part of the role is to assist with prospect research and reporting, tender research, and contributing to the creation of proposal and tender documents. At the moment, I am working on a proposal for an existing client that has expressed an interest in other services that WSA offers. I'm also working on my first Tender document for a higher education provider. There's lots to learn but Charlotte is always there to lend a hand and answer any questions that I might have.
In a couple of years, I would like to still be at WSA (hopefully back in the office!). I'm really looking forward to being around everyone again. In terms of my career, I would like to progress within the New Business team to lead on more projects and proposals alongside Charlotte.
If I could give any advice to someone changing careers, I would say try not to over think the decision too much! Aim to make a list of things that you enjoy doing and that you are good at, to see if this fits with the new role that you're considering. And most importantly, don't be afraid to ask questions to make sure you're making an informed decision. After you've made the change, there will always be things that you don't know in a new role but feeling like you're able to ask questions to better your knowledge is an important part of the transition.