#askanemployer – an interview with our CEO Jane Hayward about the value of Apprenticeships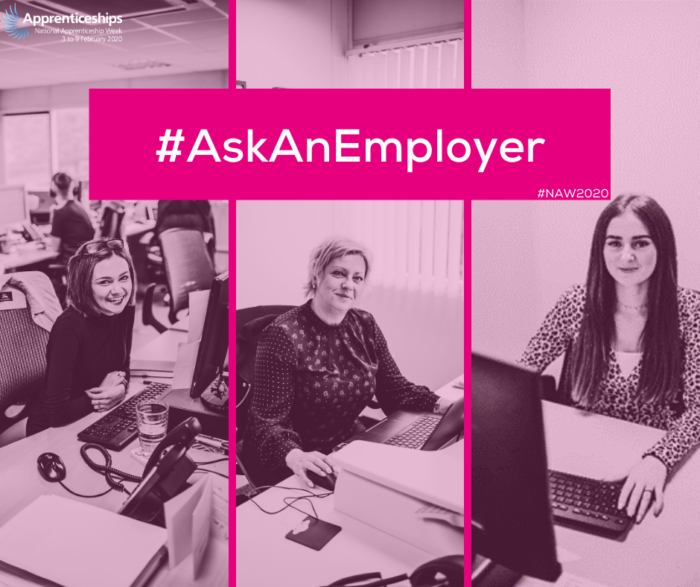 People and businesses from all over the UK are currently celebrating National Apprenticeship Week. Running from 3rd February-7th February, this week is a chance to recognise and applaud apprentices for their success, along with apprentice employers, who are using the occasion to promote their apprentice programs. The reach of the campaign extends to communities, parents and other employers who are less familiar with the benefits of apprenticeships.
Bea Everatt and Molly McCarthy, our WSA apprentices, spoke to CEO, Jane Hayward about the benefits of having apprentices within the agency.
What inspired WSA to take on apprentices within the agency?
We wanted to hire apprentices because we wanted fresh faces, new ideas and the contemporary skill set which young people have to offer.
When we took on our first apprentice, within the Digital department, we wanted to make sure there was growth and development available. We found that the team was organically ready to expand. Over time, the agency has grown further, allowing for another apprentice to join us in the PR division.  
What has the agency learned from hiring apprentices?
Building relationships with our apprentices has allowed the agency to listen, learn and develop concepts along with picking out key information and knowledge from a new perspective. This is particularly beneficial within this digital age. Molly and Bea come from a technologically advanced generation, which benefits the rest of the team and ensures our clients receive first-hand advice on reaching this audience.
When I finish my apprenticeship, I want to further my career at WSA as the ethos and culture is unlike any other business. I'm excited to learn and absorb as much knowledge as I can from my team as their extensive experience gives me the support and guidance I need to confidently grow and progress from the bottom up.

Bea Everatt – PR & Marketing Account Apprentice
In what ways has it been beneficial for the wider team to mentor apprentices?
Embracing a culture of diversity is important to every business, so our managers have welcomed the valuable contribution of our apprentices. Bringing apprentices onboard has been a learning experience for the wider team and has created opportunities for new managerial skills to be learnt and applied. The mix of youthful fresh thinking and experienced mentors at WSA is something I'm personally very proud of.
The theme for this year's national apprenticeship week is 'look beyond', in what way can apprentices go beyond what is expected of them to add value to a business?
With the right attitude, drive, enthusiasm and energy; an apprentice will be supported through every step in their developing career. Advancing your education through an apprenticeship is about collaborative learning between the business and apprentice, so having an eagerness to work hard can only boost your success.
What words of advice would you have for other businesses considering taking on apprentices?
Do it! Seize the opportunity to bring young people into your business as their contribution will always add value. Successful businesses will never miss the chance to continue growing and apprenticeships are ideal for creating a structure of progression as young people begin to build their careers.
I finish my apprenticeship soon and I am very excited to get stuck in with the team as a qualified Digital Marketer! I'm ready to get involved in new and developing areas of the business and develop my skills further. Hopefully in the future, I will work my way up the career ladder at WSA.

Molly McCarthy, Digital Marketing Apprentice
Back to the blog