KFC's scratch 'n' sniff cards

The fried chicken connoisseur has joined forces with Moonpig to create eight bizarrely scented Valentine's Day cards.
The wacky designs include puns such as "Life with you is all gravy", "We go together like chicken and gravy" and even "I love you (almost) more than KFC".
The showstopper, with scratch 'n' sniff technology, is the "You are Finger Lickin good" card which releases the iconic chicken scent as your crush scratches away at the drumstick.
*Warning! May cause severe cravings for KFC. *
Twitter's cringeworthy confessions of dating life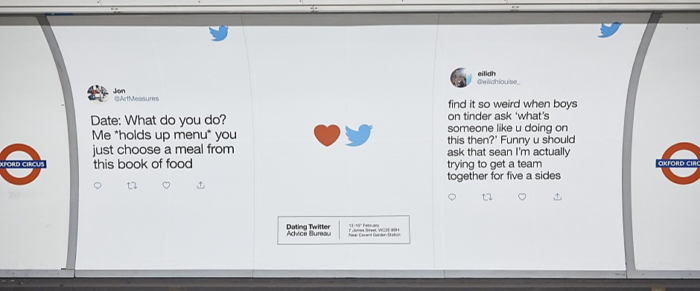 The social media giant has taken over platforms across the London underground, entertaining commuters by poking fun at the relatable truths of the dating world.
At a time when Valentine's Day romance is plastered in every shop window, Twitter has replaced adverts throughout popular platforms Oxford Street, Piccadilly Circus, Tottenham Court Road, Clapham Junction, Queens Town Road Battersea and St Pauls Road Islington, plastering billboards and tunnels with their users embarrassing stories.
M&S introduces the new 'love cucumber'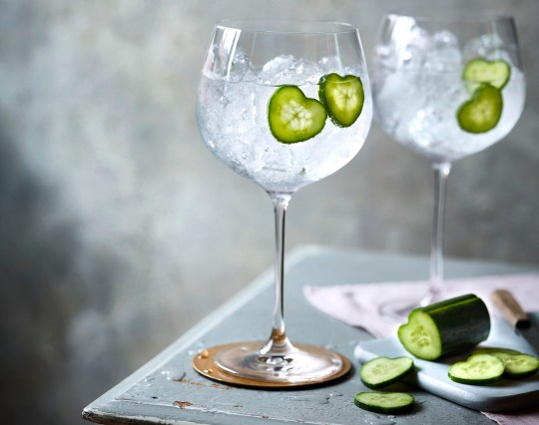 Following the viral success of the giant love sausage that we saw last February 14th, the legendary banger is back and accompanied by what could be described as the most risqué Valentine's Day product ever – the love cucumber.
Posting on Facebook, M&S shared a picture of the new love cucumber, writing: "You've heard of the Love Sausage and now it's time to try our Love Cucumber! Actually heart-shaped, and a world first, it's been grown exclusively for M&S – just the thing for adding to your Valentine's G&T.
The Love Cucumber is a VERY limited edition and is only in 94 of our biggest stores, so get it while you can! Who will you share your Love Cucumber with this Valentine's Day? Tag your beloved below. Cheers! In-store today!
#loveisintheryanair
Online competitions are a great way to appeal to a large social following and Ryanair has shown how it's done. Their Valentine's Day competition, which gives the winner the chance to take their loved one to a romantic destination, has attracted over 95,000 views already and almost 6,000 comments including some from the popular discount store B&M.
B&M flirts back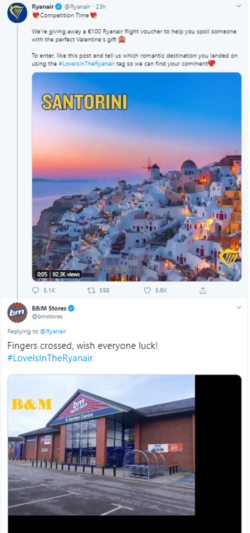 By jumping on the campaign, B&M seized the opportunity to use #LoveIsInTheRyanair for their own promotional advantage. The comical reply, suggesting their stores are the ideal romantic destination that your valentine is dreaming of going to, shows how brands often benefit from other people's marketing campaigns.