Helping the environment and 'going green' is something everyone aspires to achieve, but not something everyone actively joins in on. Helping our world doesn't even mean having to go to extreme lengths and doesn't require a drastic change in how we operate. Small changes such as reusing bags and recycling plastic bottles are little everyday things people can do to help our world.
Making a conscious decision to help the environment and promote sustainability was a clear vision that our client Alleyn's School expressed when they considered creating custom merchandise for their school Open Days and to celebrate their 400th year anniversary as a school. Alleyn's wished to create a range of branded school products that parents and students could re-use and enjoy.
So, why did Alleyn's decide to create ethically sourced products? It all began with the school noticing that they produced a number of banners for both indoors and outdoors purposes, but once the banners had been used it raised questions as to how they could produce promotional materials that were more sustainable.
Working with Alleyn's, we sourced a printer that was efficient and eco-friendly which allowed Alleyn's to print banners, then return the cassette to the printer and reuse them for future banner prints. This inspired our client to continue to develop all of their promotional products and manufacture them to create a range of reusable promotional items for their Open Days and their impending 400th anniversary in 2019.
To celebrate Alleyn's 400th anniversary, the agency sourced and designed branded KeepCups and Copper Vacuum Insulation Bottles for the school to offer to parents and students as commemorative memorabilia. KeepCups are a fantastic and popular alternative to plastic cups. They are made of tempered glass, with replaceable components that are recyclable at the end of life. With the school's crest printed on the side, it is a great personalised gift that is also environmentally friendly, popular with parents and teachers to use every day.
The Copper Vacuum Insulation Bottles are made to keep hot drinks for 24 hours, and cold drinks for 48 hours, thanks to its copper plated inner wall. Another great alternative to plastic cups or bottles for hot drinks and plastic water bottles for cold drinks, the cups are also engraved with the school's crest printed onto the outer casing.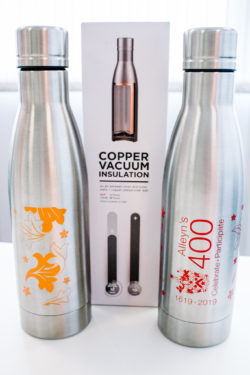 For Open Days, Alleyn's School launched tote bags, bouncy balls, pencils and notebooks and pens as giveaways for prospective students and parents. The Alleyn's branded pencils are stored in recycled cardboard tubes and are protected by a recycled plastic lid which also doubles up as a sharpener. The notebook and pen are also made from recycled cardboard and recycled paper, cutting down on unnecessary tree consumption.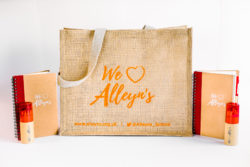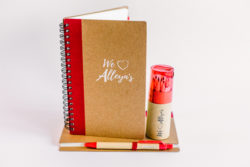 The tote bags were designed with two different colourways for the Senior school and Junior school, featuring a red print of "We heart Alleyn's" for the Junior school, and an orange print for the Senior school. The canvas bags were specifically designed to fit the school's prospectus' and were perfect for carrying contents and merchandise from the Open Events for parents. For the students 'Experience Alleyn's' Day, there was a drawstring bag, made with 100% unbleached cotton, that fitted all of the goodies of the day inside, including the bouncy ball, pencils and notebook and pen.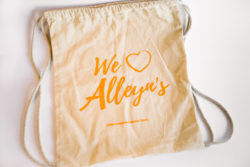 If you are looking to create your own ethically sourced products, then why not see how we can help? Get in touch by email or by telephone on 01908 371177.