The Eurovision Song Contest 2023 is set to take place in Liverpool next month, marking the first time in 25 years since the annual song contest has graced UK shores. But before you grab your Union Jacks and set the take-away to speed dial (mine's a kebab, thanks) enjoy our countdown to this annual music spectacular. Love it or loathe it, you can't help but notice how marketing plays a huge part in the continued success of this landmark event.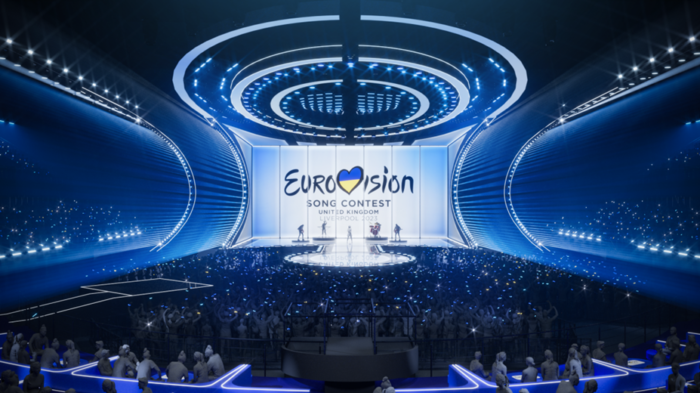 Hoping to generate points for the home nations this year is Mae Muller and her entry "I Wrote a Song", which has been gaining radio airtime, especially on the BBC, in recent weeks. Everyone's favourite British 'Spaceman', Sam Ryder, last year's Eurovision runner-up, will be launching the proceedings and flying the flag for the UK once again.
So, how did this international sing-off and massive marketing machine begin? At 67 years old, The Eurovision Song Contest (ESC) is the same age as Bill Gates and one of the longest-running television programmes in the world. It has grown hugely in influence and popularity since seven countries participated for the first time in 1956. This year, 37 nations will take to the stage and sing for the crown as they are watched and judged by a 200million+ worldwide audience. Not only will the live show be broadcast around the world, but social media streaming and engagement is also set to play a bigger role than ever before.
But how did the Eurovision Song Contest get so popular? How does it maintain interest and continue to grow? Communications and marketing have always been key with the maiden edition presented as a landmark moment in broadcasting – a technical experiment of a live, simultaneous, transnational broadcast – a notable PR coup for networks and broadcasters around the globe. Over the years, the messages and themes have adapted to reflect changes in society, but thanks to a strong sense of self-awareness and a desire to capitalise on innovation, the contest has become one of the most engaging events in the global entertainment calendar.
With a few marketing tricks up its sartorial sleeves, the Eurovision Song Contest continues to shine as one of the greatest shows on earth. Below, we explore the marketing strategies which keep this musical extravaganza continuing to hit the high notes.
Balancing the silly with the serious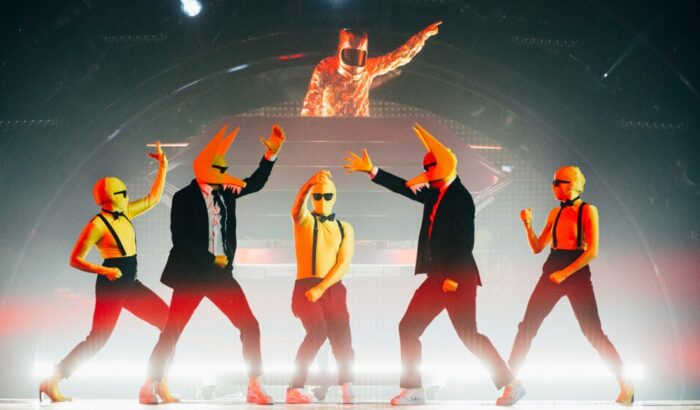 Eurovision has long revelled in self -parody which embraces and celebrates all the contest aims to be. By marketing itself as a competition that does not take itself too seriously, it encourages light-hearted engagement and attracts mass audiences who simply want to be entertained for an evening, not needing any prior knowledge to grasp what is happening and to have a good time.
Familiarity with the format helps with our love of the show. In the UK especially, the tone of Eurovision has been set for years, firstly thanks to the commentary of Terry Wogan and then Graham Norton, who both balanced brutal critique with genuine warmness and affection for the love and creativity the show continues to represent. This mantra is evident throughout the marketing of each contest and ensures that even when jokes by presenters get lost in translation, a wider understanding of the good nature of the show plugs those gaps.
If we apply this to brand marketing, we'll see that the lengths to which a brand can poke fun at itself varies, but in the main, this tends to appeal to mass audiences. A brand becomes immediately more approachable if they are fun in an authentic way, but most importantly, upfront and honest about who and what they are all about.
Carnivale!
The join-in factor keeps us coming back for more. The big-ticket sporting event 'finals' approach and community ethos are present in all marketing, plus the show actively encourages audiences to hold their own dress-up parties at home. Creating an exclusive 'club' mentality of Eurovision supporters and holding fan zones in host cities all add to this marketing mix. Despite being a one-off performance by artists possibly not necessarily considered the very best in the world, Eurovision is presented as a culmination event similar to the Super Bowl or Champions League Final.
In juxtaposition, the voting judges present themselves in business-like suits to portray responsibility for the serious side of the competition and to act as an authority over the proceedings. The performances run like clockwork against a strict schedule with songs and setlists given precise timeframes. The show maintains credibility as a contest in this way, ensuring that for all the creative freedom the performers are granted, audiences never feel it is a waste of time but rather a prestigious title that every nation involved should be going all out to try and win. It is very difficult to market something as non-serious yet important, modern yet historic, but Eurovision nails it.
A sense of national pride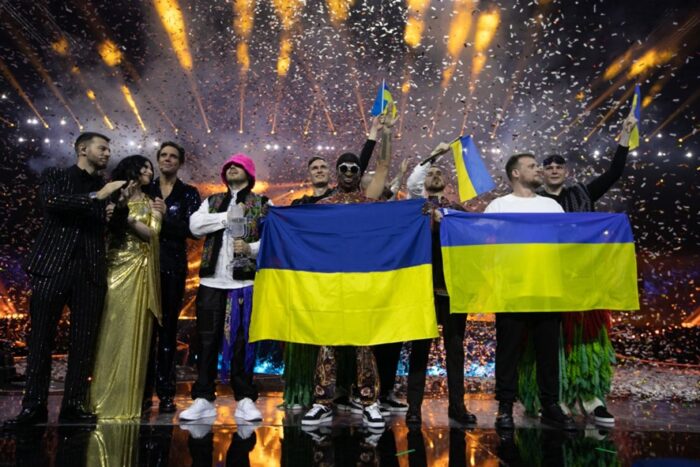 Clearly, many nations see Eurovision as a chance to market themselves on a global scale – encouraging tourism and using positive PR around the event to shape the world's perception of their country.
The host city is always in line for much fanfare and video packages take the viewer on a PR tour of the nation's top tourist spots before every song. These indents are essentially a suite of global holiday adverts, littered throughout the broadcast and reaching every corner of the earth – making hosting the contest a lucrative marketing opportunity unlike any other.
As seen with sporting events like the FIFA World Cup, national pride and flag-waving are encouraged whenever pitting representatives from different countries against each other. Eurovision stands apart with a unique balancing act, never focusing on rivalry in the way some sporting events do and always sure to market proceedings as communal, supportive and bringing people together. However, it still benefits from tribalism and the joy that audiences derive from 'getting one over' their neighbours. Marketing messages may stay exclusive to love and unity, but the leaderboard and points battle unquestionably appeals to direct competition. There can, after all, be only one winner (unless it's 1969 … when there were four!).
No politics allowed… sort of
Eurovision has strict rules about political points being made in song entries, but this still happens both subtly through themes and in other more direct ways. If aligned with audience consensus this can result in praise and positive outcomes, but some performances have been booed by audiences based on what is happening politically at the time. Last year's winner, Kalush Orchestra from Ukraine (which was a banger of a tune in its own right) entered against the backdrop of the war with Russia, which almost certainly would have factored into the voting. Russia themselves were banned from the contest and remains so in 2023.
And let's not forget the 'nil point' scores that have rocked the UK on more than one occasion this century, uncoincidentally at times when Anglo-European relations have been less than perfect. The love and community vibe of Eurovision means most countries, even those that perform badly, pick up the odd scattering of points – unless the nation has done something recently to majorly annoy and ostracise themselves from the collective. The vast majority of winners over the past two decades have sung in English, despite that not being the native tongue of said victors. Interestingly, since Brexit, no song sung in English has won again (but that might change this year!).
Spearheading Inclusion and diversity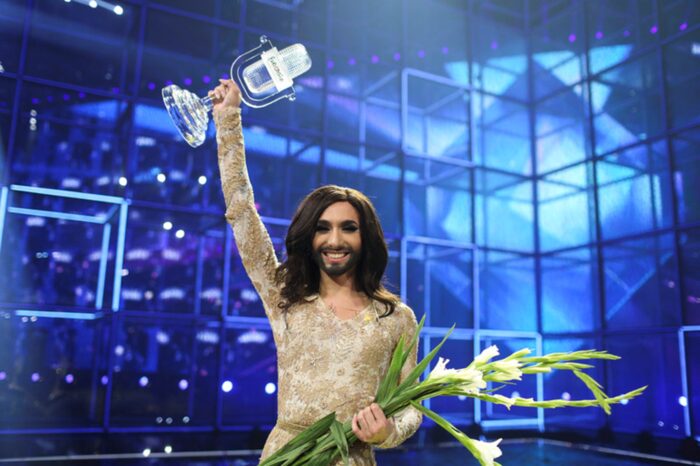 Musicians like Madonna and Lady Gaga have earned strong LGBTQ+ followings over the years for showing their support and advocacy, using their platforms to share messages of acceptance and promoting inclusion. The Eurovision Song Contest has taken a similar stance, marketing itself as a celebration of diversity but most importantly, proving it. Delivering true inclusion is a prominent marketing strand, but the ESC has always been ahead of the times.
When brands superficially claim to commit to a cause it can have disastrous ramifications. Eurovision has succeeded as it lives the values it claims to uphold. Consistency in this regard breeds authenticity, which in turn creates trust and dedicated commitment from the audience they choose to champion and represent.
For many, this annual extravaganza is only second to Gay Pride celebrations in terms of actively advocating for those who identify as LGBTQ+. The Eurovision Song Contest began as a mild-mannered 1950s singing competition but since the disco boom of the 70s, it attracted an organic gay following, offering escapism to those repressed by societal gender conformity. Eurovision began to realise the role it played in this regard and has pushed boundaries of visibility and broken through glass ceilings ever since. They identified a loyal fanbase and have authentically championed these fans in their marketing to great effect.
Sticking to values publicly
What makes this a bold and admirable move by Eurovision from a marketing perspective is the reality that not all national audiences share the same cultural or religious views and beliefs. This can spark conflict and has seen the broadcast banned and censored in parts of the world. Not one to shy away, the competition has excelled in the face of critique, unafraid to be viewed as controversial as long as it retains its sense of identity – sticking to core brand pillars of love and inclusion for all.
Conchita Wurst is one of the most famous contestants of the 21st century, winning for Austria in 2014. Rather than worry about countries and commentators who would disapprove of a bearded drag queen competing in the contest, Eurovision championed Conchita throughout and post-victory and has continued to do so. Through such a vast multi-national platform, Conchita is now recognised as a leading influencer and ESC personality. The intrinsic link between singing and having a voice has never been lost on Eurovision and it has ensured this is prevalent and proud in all communications.
Innovation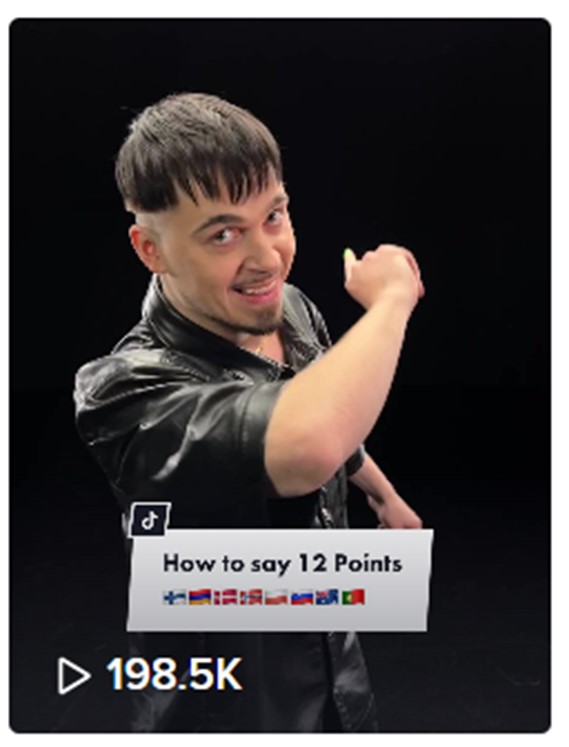 The competition has changed with the times and embraced new technologies and platforms to widen appeal. Last year, TikTok sponsored the contest in Turin, opening up all kinds of new digital marketing avenues and promotions. The European Broadcasting Union (EBU) has approved this to continue with TikTok set to livestream the two Eurovision 2023 semi-finals – on Tuesday, May 9th and Thursday, May 13th, as well as the grand final on Saturday, May 13th.
In addition to the influx of behind-the-scenes content, previews, challenges and live streams, Eurovision has boosted its presence through Instagram reels, Spotify playlists and most importantly encouraging user-generated content on every platform. Playing into the community ethos once more, sing-alongs were added as 'red button' options to television broadcasts, voting is no longer restricted to calling a specified number after the launch of a dedicated app, and games and filters across the breadth of the social landscape now allow audiences to put their own spin on their unique Eurovision experience.
These are incredibly important marketing tactics as the wealth of interactive opportunities speak directly to an audience which has proven values in involvement and uniqueness. Being memorable is often more important to performers than the songs themselves, often outdoing each other to be creative or downright comical. There are definite comparisons to be drawn with how a lot of people use social media and what they use it for.
Popular media infiltration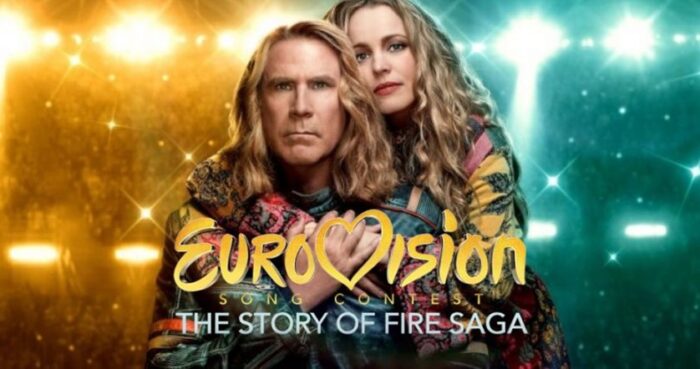 As with most large events, sponsorship alignment plays a huge part in generating brand awareness. A big part of Eurovision funding comes from sponsorship with the likes of Baileys, Boeing, Booking.com and Schwarzkopf sponsoring and utilising the contest for their own advertising purposes. It is not surprising that big brands in travel, style, fashion and entertainment would see the benefits of the visibility that a show broadcast around the world would bring. The likes of Justin Timberlake have begun performing whilst votes are calculated in a segment that looks more and more like the half-time show at the Super Bowl each year.
Featuring the brand in other popular media can generate additional interest and reach new audiences, such as Eurovision Song Contest: The Story of Fire Saga, which holds an impressive 77% fresh audience score on Rotten Tomatoes. On the face of it, a typical slapstick comedy film for Netflix, but also an advertising vehicle for the contest, the film has been mostly embraced by the Eurovision community as a hilarious self-parody, that remains respectful of the contest whilst capturing its spirit. Lending the Eurovision name and branding to a send-up would be a risk that many would not take – but this bravery pays off immensely. Especially considering it was released during the COVID-19 pandemic, essentially acting as a replacement contest for those missing their annual Eurovision fix and marketing the brand to those stuck at home who may not have tuned in otherwise.
Play JaJa Ding Dong!
Will Ferrell, star of Elf, Anchorman and Step Brothers, guarantees an audience and will have undoubtedly attracted non-Eurovision fans to watch the movie. He and Rachel McAdams were both astute casting, comedic actors with surprisingly brilliant singing voices – themselves reflective of the contest, which draws many people in for comedy value and then surprises them with the quality of vocals and performances.
It is a safe bet if someone had never seen the show before but tuned in for Ferrell, and then enjoyed the film, they would likely check out the next contest. What's more, the film is littered with cameos from recent Eurovision stars who remain on the marketing circuit. This benefits on two fronts, ensuring audiences feel this is truly a Eurovision movie and not a cash-grab (servicing current fans) whilst introducing these characters to new audiences, showing off their impressive voices, and gaining new followers for them and the show in future. They also sing directly into the camera, breaking the third wall and inviting the viewer into the party and the community.
It of course helps that the songs throughout the film are ace. I say that with absolute sincerity – both Húsavík and JaJa Ding Dong were featured at my wedding the year after the film was released.
Appealing to the many and the few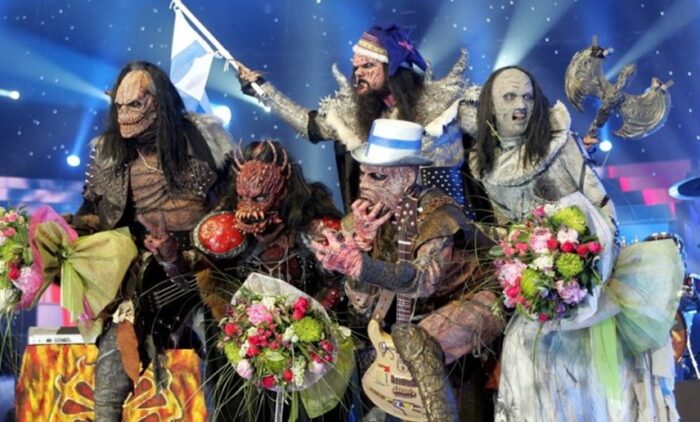 Marketing the Eurovision Song Contest is all about mass appeal and making decisions based on global opportunities. Since a format change in 2004, more countries than ever take part in the Eurovision Song Contest with two semi-finals now taking place in the lead-up to the Grand Final.
I mentioned earlier that most Eurovision winners sing in English even though that is not often the native language of the country performing. This is purely about appealing to the worldwide audience and communicating (or singing) in a way that is understood and received by the majority, boosting chances of building a connection and winning votes and engagement. Brands can learn a lot from this and recognise that in order to appeal to different audiences, they may have to stray out of their comfort zones and communicate in a way that speaks best to those they are trying to reach.
By branching out and including the like of Australia in the contest since 2015, it is clear that the expansion of Eurovision will only continue. Would it be all that surprising to see the contest replaced one day with a Globa-vision? Perhaps not if viewership worldwide continues to grow in other continents.
A safe bet?
Gambling and betting on Eurovision outcomes have also grown in popularity with the thrill of competition going beyond national pride and tapping into desires to 'pick a winner'. There are a lot of similarities in how the Grand National at Aintree attracts punters who never show an interest in horse racing the rest of the year. This can be attributed to both events being marketed as something where 'anything can happen', encouraging the public to make bold predictions of long odds from a large field of runners.
Whilst Eurovision themselves do not market this directly, as it would not be in keeping with the ethos of the contest, bookies do this for them often offering placement odds and offers to encourage people to bet and in turn, to watch, either to see if they can spot who they think will win or to see if their pick goes the distance. Like other contests rather than sporting events, audiences are given a sense that they can influence the final outcome by voting for the country they have bet on to win, encouraging further engagement with a clear reason and benefit for doing so.
The threat of a PR gaff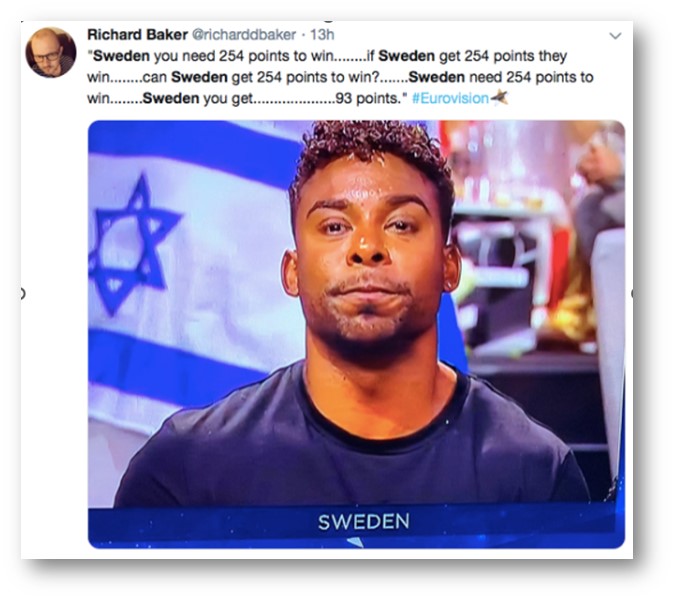 Live TV can be a disaster – and people want to see it. The reality of any live TV broadcast is things can, and will, go wrong. The Eurovision team knows this, but rather than fear the repercussions of sub-par performances, they lean into it and embrace it the same way they do everything else.
The social media age has been a revelation for these types of events, with reactions no longer restricted to next-day reviews but posted instantaneously and unfiltered. The birth of fresh memes is commonplace on timelines every year during the broadcast with audiences encouraged to join conversation hashtags on social profiles and outdo each other with witty comments and analysis whilst the show unfolds.
Not only does this add to the viewing experience and encourage people to tune in next year, it has an instant marketing impact, reminding people who may have forgotten the show is on, or capturing the interest and attention of someone who did not intend to watch – but based on what they see – is enticed to tune in.
Whether it's visible disappointment in receiving a low score, a wacky costume malfunction, a stage invader or a shaky vocal performance, Eurovision knows that the bad often means the good when it comes to quick-fire viral social engagement. Every year the contest trends globally and usually it's a comedic, unplanned moment that tops the analytics.
Fear or missing out (FOMO) is real and nobody wants to miss the 'did you see' moment of the week. Eurovision is the type of live event where something unpredictable, or unexpected, is almost always guaranteed – so marketing that successfully is a smart strategy.
Utilising legacy and heritage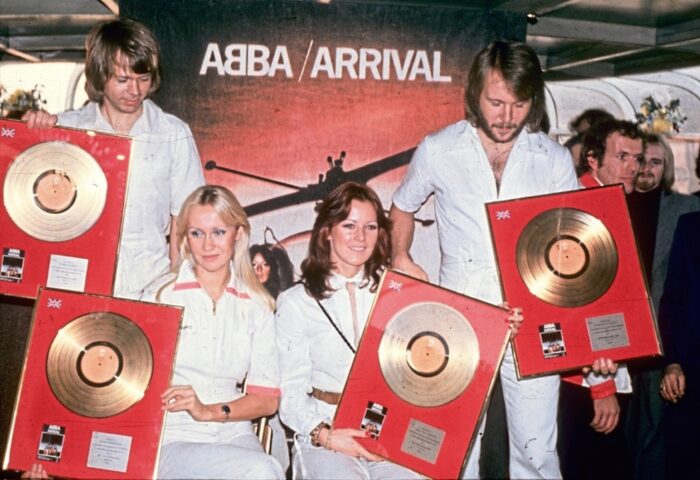 Giving the largely 'disposable' entertainment on offer credibility, is the show's throw-back reportage of past success stories – creating a desirable marketing stage for a host of rising stars.
From ABBA, Celine Dione, Cliff Richard and Olivia Newton-John to Bonnie Tyler, Blue, Bucks Fizz and even Flo Rida, the back catalogue of Eurovision entrants and winners is a treasure trove of success and suggests the next big star could be unearthed at any time.
Tapping into this legacy not only makes each annual contest feel historic and special but allows influencers to promote the latest edition to more than just today's generation. A strong community made up of former performers and presenters have been formed, so you never know who might make a guest appearance or surprise return – often as a country representative, delivering the all-important points during the results section.
This all adds to the ESC community feel that makes returning and die-hard audiences feel part of the show, encouraging their friends and family to take part in the viewing experience too, no matter their age. Having a primary target audience is essential, but not alienating those loyal to the brand and its advocacy, remains important too.
Communicating self-made news
The platforms have updated, but the news mantra for the Eurovision Song Contest has always remained the same. There are seemingly endless opportunities to connect with the audience and drip feed announcements ahead of the show – equalling continuous news and PR opportunities. Firstly, the host city is announced, and then this quickly progresses to representing talent being showcased and shared, semi-finalists drawn, running orders and presenter revealed and of course, a winners' press conference. The history and reputation of the competition ensure news shared by the organisation is professional and appeals to reporters, adding to the eternal Eurovision supply and demand media cycle.
Marketing for the next contest begins as soon as the previous edition reaches its conclusion and this 'always on' mentality has created a media juggernaut of news stories and opinion pieces that never runs out of valuable or insightful things to share.
Final Thoughts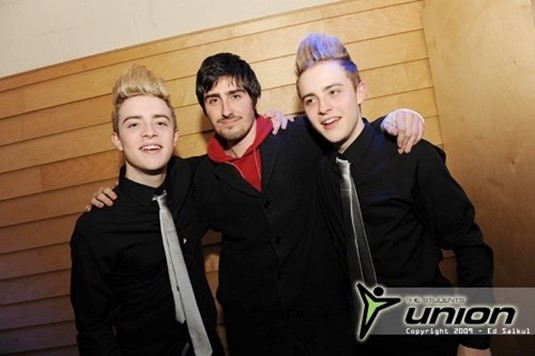 There is a lot to learn from the Eurovision Song Contest and how it continues to succeed through marketing. With an unwavering commitment to its core identity, the event communicates with the world loudly, proudly and unashamedly.
Unlike copycats and pretenders who have come and gone faster than you can say 'Katrina and the Waves', Eurovision continues to stay relevant by championing causes, encouraging discussion, innovating its offering and above all else, never taking itself too seriously.
Come Saturday 13th May, my wife and I will be partaking in our own 'Kebab and Eurovision' annual tradition. However, you intend to tune in, profite du spectacle, goditi lo spettacolo, geniessen Sie die Vorstellung, disfruta el espectáculo and enjoy the show.