In the WSA office, we have filled another seat every Monday afternoon with MK College student, Aaron Hall. Aaron is in his second year of studying Level 3 Graphic Design and has joined our Studio team on work experience to gain an insight into the work the team does each day and to discover if this is the industry he would like to work in once he finishes college in summer.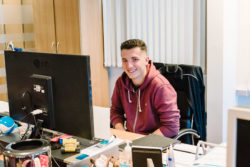 Our Digital Marketing Apprentice, Molly McCarthy, had a chat with Aaron to find out more about how he is finding work experience so far.
What are you currently doing at WSA?
I am working and learning in the studio, mostly shadowing Creative Designer, Roddy Clenaghan and Studio Director, Peter Rice.
How are you finding your experience at WSA so far?
It's great! I feel that I'm learning and developing my knowledge in the Studio on all things design. Initially, I was a little nervous to join the team, having never worked in an office environment before, but I soon began to feel very comfortable, and it has really opened my eyes to the world of work and what to expect.
What career do you want to follow in the future?
At first, I was interested in working with Art as this was something I had a passion for all through my years in education but having started college I am now looking into going down the Digital route as I feel there are more job opportunities. As it currently stands, I'd like to work as an Illustrator or an Animator.
What do you think of the team and working environment?
My first impression of the team was that they were really welcoming. They are all very supportive, insightful and collaborative in making sure I understand everything they show me, along with supporting me in any extra learning I need. I spend my time shadowing members of the team and then working actively on my own and I find that the mixture of work ethics really benefits me.
What are you working on at the moment, at college and at WSA?
At college, I am currently working on a project with Thames Valley Police to create a graphic piece to raise awareness of Hate Crime. This is a live project, which I had never done before. Working at WSA has made me more comfortable with the pressures and skills I need to carry out live projects. Also at WSA, I am learning about new programmes, such as InDesign and most recently, WOLF which is a custom software at WSA that is used to process and record client orders. I sat one-on-one with Kathryn to learn how to use WOLF, and I feel that over time with the help of the team, I will develop my software skills, which is something I haven't had the opportunity to do at college.
What do you study at college? How is your work experience at WSA benefitting your college course?
I study Level 3 Graphic Design and I am in my second year of the course. WSA definitely helps me with my college course, in terms of learning about the effectiveness of teamwork in a workplace, along with the importance of deadlines and live projects. Knowing this helps me to understand why it is so important that the tasks and projects I complete in college are done by their deadlines. Overall, I feel it has improved my work ethic, which is something I can take away and use in jobs in the future. Without my work experience at WSA I would never have that.
Overall, how would you sum up your work experience?
If I had to sum up my experience so far in one word it would be: awesome! It has helped me to understand what paths I can follow when I finish college in the summer. I now feel that I'm ready to begin the world of work or begin a higher-level apprenticeship, and this is due to the solid support and learning I have gained from the Studio.
Peter and Roddy – what it is like having Aaron in the studio? How have you found the experience working with him?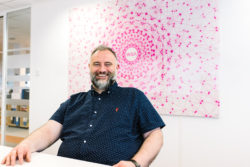 PETER: As Creatives, we've all needed to have that valuable initial experience that helped us decide on the right path for our careers. We believe it's important to have an attitude of supplying our professional knowledge to help up-and-coming talent find their way. That's why we're excited to have Aaron with us for 6 weeks, helping him discover what creativity can truly achieve. He got stuck in straight away, showing he's fully prepared to learn, to work and to get involved, displaying a great attitude that will take him far. He's rightfully curious, willing to ask questions, look over people's shoulders and spend time learning more than just the creative bit. We're enjoying the experience, hopefully as much as he is.
RODDY: I totally agree with Pete, Aaron was eager to learn from the get-go and continues to get stuck in. He is good at absorbing information and his communication skills are very good. It is a delight to have someone new part of the team that is willing to participate, learn and develop from professionals.