In the UK alone, there are currently 45 million active social media users. Funny videos and 'memes' are a huge community and interest for many users and appeal to a wide audience range. The birth of Vine in 2012 led to the boom in short 6-second video clips, providing entertainment and the rise of stars such as Shawn Mendes, Nash Grier and Liza Koshy. In December 2016, after 5 years, Vine died an early death. With its absence, many apps have attempted fill the sharable short-video void for users.
Bytedance, a Chinese Internet technology company, bought Musical.ly in November 2017, an app famous for lip sync videos. In August 2018, Bytedance dropped the Musical.ly name in favour of TikTok – the birth of the app we know today. TikTok is a hybrid of Musical.ly with its musical elements and Vine for its comedic content. Current facts for its success include: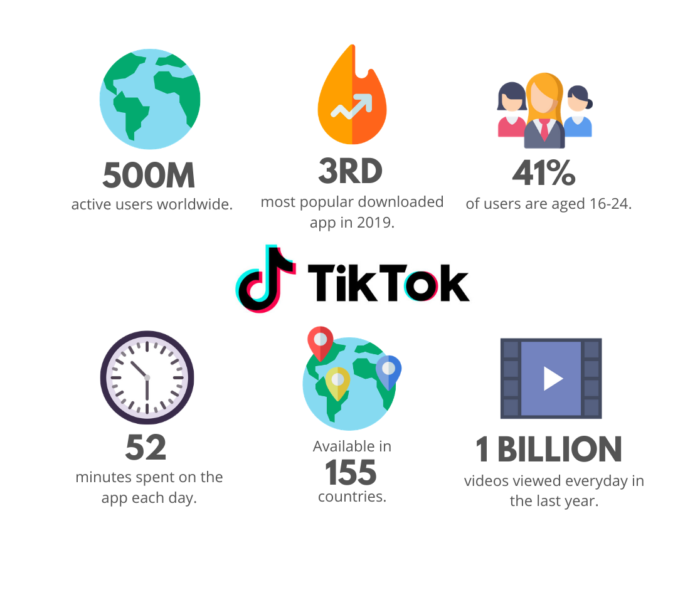 The question is, can TikTok be used a sustainable platform for your social media marketing strategy? The answer is yes. Whilst it is still an emerging platform, the opportunity for organic content is endless. The 'Discover' page allows you to view trending hashtags such as #teamtrees, #ukfood or #changestartswithus. By analysing popular hashtags and utilising these for your content, you will help to boost your brand awareness in the TikTok community and open the doors to those who also use similar hashtags.  Recommended original sounds will appear in the 'For you' page when you open the app – an opportunity for brands to create content based around the most popular audio creations. Whilst there are many lip-synching clips to be found, some brands such as Pretty Little Thing create 'Behind the scenes' style content where users can get an insight into the people behind popular consumer brands, utilising mini vlogs and sponsored giveaways.
Earlier this year, TikTok launched a beta of its "managed service platform" which allowed the creation of biddable ads, however, these still require reps to run the ads. Most importantly, there is currently only one ad format as a campaign option, the standard in-feed video ad. As TikTok's feed is of short video clips, this introduces its users to ads within the format as they view organic content. The various aspects you can target include age, gender and county-level geo-targeting. Tiktok is looking to expand into interests and behaviours in the near future.
Another form of ad is the 'Rand Takeover' which pops up when the user first opens the app and allows you to drive users to an internal or external destination. GrubHub, a new food delivery service, tested this ad format promoting the user to install their mobile app whilst other brands such as Depop and H&M are currently experimenting with this format too.
An app on the rise that directly appeals to Gen Z, it is exciting to unravel what Tiktok can already offer in terms of advertising and future options that may exist once they release new updates. With dynamic and unique content, this opens up a discussion for ad creative and format to fit. The expected TikTok user is between the ages of 16-24(with 41% of users within this age bracket) who enjoy humorous and energetic videos, musical talents, debating social issues and general pop culture.  In terms of a business connecting with this young and creative audience, posting positive news and getting involved where you can with the popular hashtags and audios is the most effective way to create relatable and interesting content that will gain followers and rack up likes.
Overall, Tiktok is an app that has become a huge success within a short span of time and could have the potential to be a huge victory for Bytedance. With the absence of Vine and the demand for a similar app, the outlook is good. Just like Vine however, there is no way to predict how long this will remain so well engaged with. History would suggest the clock is already ticking for brands to capitalise with this current audience before it evolves again. Tik Tok…