Alessio recently joined our Digital team as the new Head of User Experience, find out more about how he has found settling into WSA and his skills that span much greater than marketing and communications!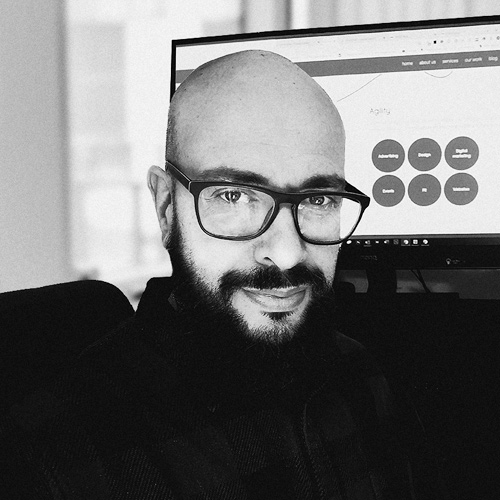 What have your first few weeks at WSA been like?
Busy but also exciting and unusual (because of COVID-19). I have spent most of my WSA life working from home so far, but the first month in the office was brilliant. Coming from an in-house studio at a big corporate company, I missed the vibes, the enthusiasm, the buzz and the creativity of a busy agency. I felt part of the team straight away and in my first week, I was already out presenting projects to clients. So a great start indeed.
What's your area of expertise and what makes you successful in this market?
I've been working in marketing and communications for 25 years. I've learned a vast range of skills over the years, but besides the specific technical and creative knowledge, I believe that what makes a big difference is a deep understanding of each department and the ability to create a bridge between them;filling those gaps allows me to have a 360 vision of any work or client challenge and find the best solutions.
What attracted you to join WSA?
I felt positive energy as soon as I stepped into the office, then the smiles and the kindness of people cast the final spell on me. Professionally I felt that I could bring a lot of value to the agency through my skills and knowledge, but most importantly I could tell that the agency was ready to take my advice on board to achieve new, important goals together.
What projects have you been involved in since you started?
Well, I've already lost count!This was one of the main reasons I wanted to join WSA, the number of different challenges and projects, jumping from video editing to a chatbot prototypes, from a PHP function to a tender project, it's a fast paced environment so days and weeks just fly past.
What goals would you like to achieve over the next 12 months?
Most importantly I want to establish a strong bond with everyone in the agency. Respect and trust are essential to make every project a great one.
What makes you laugh out loud?
Many things, as I always try to find the funny side of life and situations and to keep a smile on my face.
Finally, tell us an interesting yet little-known fact about you!
My passion for music has always been very important in my life. I used to play bass guitar and tour in metal and punk bands. I've been a reggae DJ and an electronic music producer. I almost got famous when Lady Gaga's producer commissioned me for 6 songs to support a new band he was launching, but unfortunately they didn't make it! But that's fine!