On Thursday 19th September 2019, CIVEA, the Civil Enforcement Association opened a one-day conference and exhibition at Banking Hall, Cornhill, London. Attended by 250 Local Authority delegates and members of CIVEA, the event was, for the third time running, sold out to capacity.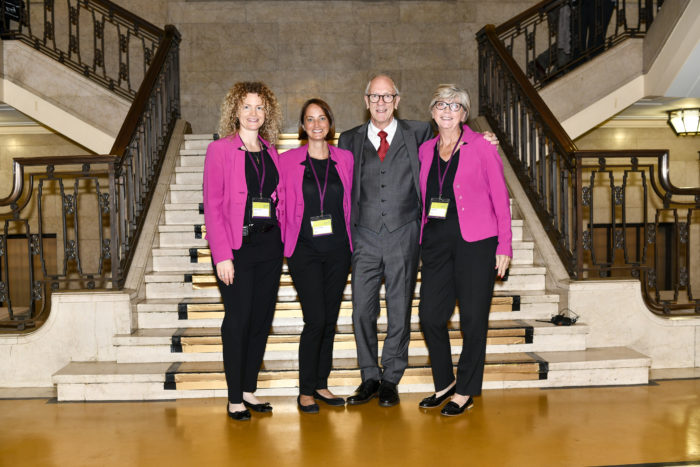 So, what was the role of the events team in making it such a success? Well, they pretty much cover everything, including:
Venue selection
Full delegate, speaker and sponsor management
AV management
Sponsorship sales
Event theme
As well as the 'people' management, the team also designs and produces:
Printed marketing materials
Signage
Delegate bags
Badges and lanyards
What happens on the event day?
5:45am – we arrive on site along with the stage set builders and AV team
6:00am – the courier arrives and we unload all of the badges (carefully), delegate bags, pull up banners etc
6:15am – the shell scheme build for the exhibition stands begins
7:45am – a member of our team is on the registration desk to welcome the first of the sponsors arriving ready to dress their stands
7:30am to 8:45am – a long list of items is being checked off by the WSA team, from walking through the AV presentations to putting out the reserved seating signs in the main conference hall for speakers
9:00am – the tea and coffee is set up ready for the early delegates (there are always at least 10!)
9:50am – At this point the team is in various locations and getting ready for the opening of conference; manning the helpdesk, manning registration for any late arrivals, in the conference hall with mics ready for the Q&A sessions and making sure all the speakers are present and ready! With the delegates in place the conference begins.
11:00am – time for some coffee and biscuits for the delegates, and a quick cuppa for our team
11:30am – a repeat of the 9.50am actions; getting all delegates and speakers seated, the first panel sessions starts
12:30pm – Lunch is served for the delegates, and the events team manage to grab 5 minutes to refuel
1:15pm – Repeat of the 9.50am actions and then the start of the afternoon's two panel sessions followed by Q&As using Sli.do; an app allowing the audience to upload their questions live via their phones
4:00pm – Close of conference and a thank you by the CIVEA President to the delegates (and a kind mention for WSA)
4:00pm to 5:00pm – pack up of the helpdesk, breakdown of the stage set and exhibition area
5:00pm – all clear and time for a celebratory team drink
After 5 months preparation it was great for project managers Maria and Vicki to see the event go so well, and to have a happy client.
I have had only good feedback about the conference. You have helped us set a new high standard for events.

Russell Hamblin-Boone – CEO, CIVEA