When I joined WSA Communications in 2019 as the department's first PR Apprentice, I was at the very beginning of my career, following a path that was unpredictable and unknown. Three years later, I am incredibly proud of the journey I've taken to becoming the Senior PR Executive and look forward to taking steps towards Account Management this year.
Throughout these three years, I've been open and perceptive to the variety of opportunities that have come my way, to develop my skills and deepen my knowledge and understanding of the evolving PR and Marketing world. However, by being proactive and creating some of these opportunities myself, I've been able to unlock the next level of my career time and time again. In this guide, I am sharing 5 top tips to progress professionally in 2022 and beyond, drawn from personal experience and developing my career at WSA so far.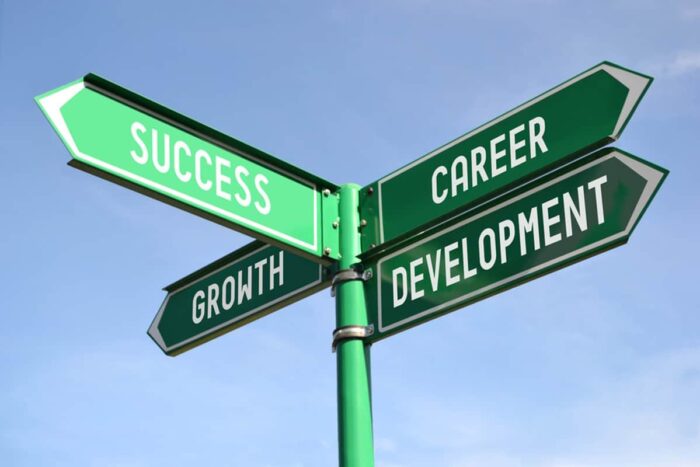 1. Set goals and milestones
Could you benefit from having a structured career pathway? From an Apprentice, to a Junior Executive and now a Senior Executive, I've consistently developed skills and expertise according to a defined career plan, showcasing my abilities to fit the mould and the requirements of a new position.
Start by establishing your first steps through a concise yet flexible strategy. As you climb your organisation's structure, fewer job opportunities will naturally become available so it's important to remain targeted in your approach. Whether you're aiming upwards, laterally or venturing into another career completely, effectively managing your pathway, with the aim of growing your capabilities and improving your unique value to your current and potential future employers. Setting defined goals against a timeline has allowed me to measure and benchmark my progress and maintain momentum, whilst driving proactively towards reaching my next milestone.
2. Broaden your experience
Absorb new information like your job depends on it. Shadowing other employees can increase your exposure to other aspects of the job and also provide further insight into the overall business. This has particularly helped me develop a deeper understanding of WSA's web team and the world of coding which benefitted me greatly during my apprenticeship.
A great way to open the doors to new opportunities is taking a sideways move to add variety to what you can offer – expanding your knowledge and improving any areas of weakness. Attending training sessions, conferences and online courses, such as the CIPR Specialist Digital Communications Diploma, has kept me up to date on my job and industry, whilst simultaneously upskilling my expertise and boosting my professional value.
3. Work with your employer
There are some great companies that demonstrate a deep commitment to their employees and will invest in your growth and career development by giving you the platform and resources to get you to where you want to be. This is where your career pathway will come in handy as both the employer and employee will want to see how their individual investments will benefit both parties. At WSA, we recognise everyone's own strengths and experiences and advocate personal and professional development to grow the team from within.
4. Increase visibility
If you want to be recognised for showing consistency, working hard and going above and beyond, remember to shout about your successes along the way. Raise awareness of how you are going the extra mile and get your face out there as someone who is worthy of new opportunities and promotions. Get involved in networking and events within your industry through conferences, webinars, exhibitions etc. to build your reputation and set yourself apart. Be proud of your achievements and do not be shy shouting about them.
5. Get out what you put in
Take responsibility for your own progress. Remember that it's your career path so completing self-assessments and performance reviews throughout your journey will ensure you hold yourself accountable. Take on extra work or expand your skillset by building up qualifications and courses to show your ambition to work hard and efficiently. Get involved in new and unfamiliar areas of the business to build a deeper understanding where you may lack experience. I've recently been exposed to the sales side of the organisation by participating in new business proposals and pitches, adding yet another string to my bow.
To infinity and beyond…
With new and transformational technologies, such as the Metaverse, disrupting today's methods of digital communication, I'm intrigued to see how my career adapts and moulds in the future to suit the ever-evolving world of marketing. But for now, I'm focusing on continuing my studies and professional development, to empower myself further and reach my career aspirations for 2022.
Looking to further your career in 2022? Check out our careers page for the latest vacancies at WSA.