New hires, clients and services have made 2018 an exciting time to be part of the agency. We're delighted to make another positive announcement, introducing the appointment of Gina Hutchings as Head of Marketing Communications.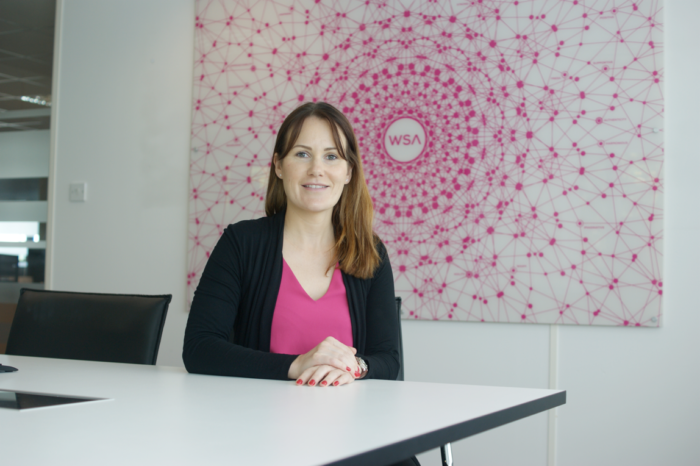 Gina takes her seat in the WSA Marketing and PR division, tasked with strategic development and effective delivery of integrated campaigns and ongoing marcomms activities, under the direction of Lester Dinnie who stated:
Bringing Gina's experience and skills-set to WSA has added the final element to our integrated marketing communications offer. We now have a senior leadership team with outstanding expertise across all the major creative disciplines and technologies.
Joining the team from Receptional, a specialist digital marketing agency, Gina brings a detailed knowledge of marcomms and account management, with particular strength in SEO, content marketing and online PR. Expertise gained working in a variety of sectors including sports and gaming combined with strong overall marcomms skills will present a new knowledge resource for key clients at the agency.
What made you decide to join WSA?
I liked what I saw!
My background and training is in multi-media marketing this includes the full marketing mix and I missed being involved in all the elements in my previous role which was mainly SEO focused. WSA offers all the marketing services and I cannot wait to get more involved in every area of the marketing mix.
Also, I am looking forward to working with Lester and benefiting from his experience and knowledge as we move ahead.
Has anything surprised you so far?
Not one person has a bad word to say about the business, in fact people are impressively positive about working here which is great to hear. I already looked WSA up on Glassdoor and have seen some fabulous feedback and the people on each of the departments here are real team players.
The other surprise was the stream of requests and work from current and new clients. It seems WSA is really making a mark in the industry.
What events and activities do you have coming up in the next few months that we can look out for?
I have been set some challenging KPIs to keep me on my toes. I plan on working across all the departments and learning as much as I can as well as attending various events to learn about our clients as well.
Gina will be attending several upcoming conferences and exhibitions in key markets and subject areas over the next 3 months, with increasing involvement in client and agency campaigns.