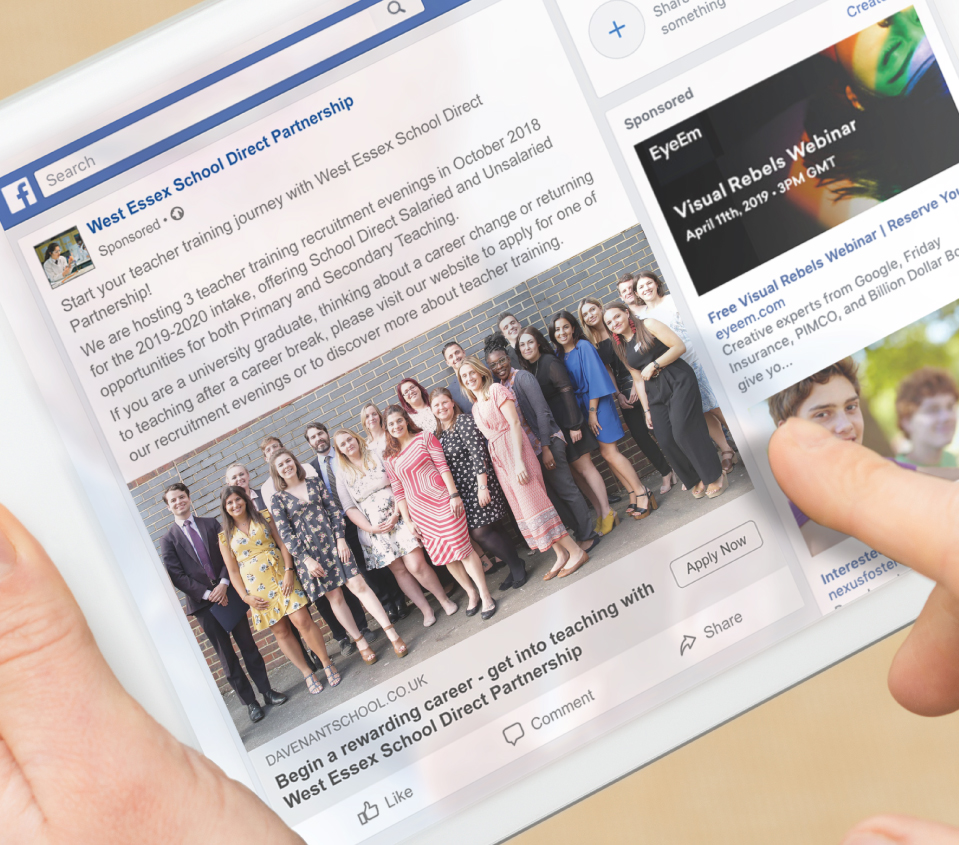 West Essex School Direct Partnership
Brief
West Essex School Direct Partnership (WESDP) wished to promote three Teacher Training Open Evenings for aspiring teachers, in Harlow, Chelmsford and Loughton. Traditionally, WESDP advertised these evenings exclusively in local papers. Alternative ideas were required in order to increase overall attendance.
Response
WSA recommended that a social media advertising campaign would be more effective in attracting graduates and providing greater return on investment. It was also recommended that a one-week advertisement in the local paper was maintained to capture both audiences. A Facebook/Instagram ad that would drive traffic to the WESDP website was designed to allow potential attendees to register online for one of the three events. A single image ad was created, focusing on graduates within a set radius of West Essex. The campaign was delivered over the course of one month prior to the open evenings.
Result
The Facebook/Instagram ad received almost 90,000 impressions and some 568 link clicks to the WESDP website. 55 attendees visited over the three evenings with more than two-thirds citing that they had heard about the event from Facebook/Instagram. This marked a significant improvement from previous open evenings.

"Thank you for the stats, more impressive figures with regard to reach! …I can tell you that attendance at all three of our events was buoyant…. it was obvious that attendance was boosted by online activity, and the calibre of attendees was generally high. We will definitely use your services again, very happy."